OFFICE FIT: My New Course in Creation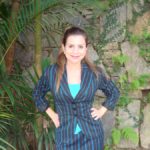 Many people don´t know this, but I have been working in Corporate Settings for over two decades; and I keep noticing the same problem that I love to solve: way too much sitting and- what I consider worse- sitting in the wrong way…
Therefore, it is no surprise to me that most people who work at an office are not only under a lot of stress, but too much internal pressure from lack of a definite plan to get FIT and HEALTHY, no matter the workload…
Watching this over and over- and over and over- motivated me to teach various programs of Yoga, Stretching and Office Fitness on site, having lots of fun and success in the process…
But now, there is no excuse not to bring some of these techniques to entrepreneurs, employees, contractors and students who need to stay in the best shape of their life. So thanks to the internet- and to the platform I will be inviting you to very soon- I am able to help many more to be fit, healthy, happy and free of pain at their offices, whether these are corporate, home offices and even mobile offices.
No excuses not to be notified of my upcoming OFFICE FIT right on my new blog MONICA FIT, so SIGN UP to get my latest updates, which I share very specially through email…
THANK YOU in advance for showing interest in OFFICE FIT, which will provide you with these top benefits:
MORE FOCUS AND ENERGY: Which you will feel right away, and which will keep you working without ever running out of steam.
ELEVATED PRODUCTIVITY: With greater effectiveness, efficiency, you will get more done in less time, feeling really good in the process.
EXCELLENT POSTURE: Since in the course,I will teach you how to sit, how to stand and even how to walk around, without hurting your body…
Want more INFO? Sign up for my email updates, and let me help you GET FIT for work and LIFE!